Download eBook:
Continuous Security Monitoring in a Continuous World
---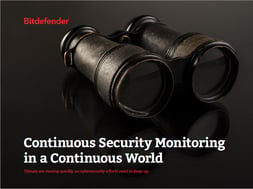 The massive moving forces of innovation and security threats today are crushing the average enterprise IT department.
The only way for IT to adapt their networks to the forces of change in technology is to ensure that security evolves just as quickly as the infrastructure and the threats. The only way for this kind of dynamic security to take hold is through continuous security monitoring.
This eBook will provide insights into:
The 3 phases of continuous diagnostics and mitigation

The 5 key components of continuous security monitoring (CSM)

How to get started with CSM
Threats are moving quickly, so cybersecurity efforts need to keep up. Download our eBook now and learn how!
Share this on: