Network Traffic Analytics – An effective solution for tough IoT medical cybersecurity challenges
Smart medical devices are changing the face of Healthcare as the portability of medical devices can be truly life-changing and, in many cases, life-saving. Frost & Sullivan estimates there will be up to 30 billion IoMT (Internet of Medical Things) devices by 2020. IoMT can be used for everything from remote patient care to hospital operations and interoperability/data management. As the IoMT continues to grow, so is the risk of breaches and for non-compliance. The variety of devices, limited hardware resources and minimal built-in security capabilities reduce the options for keeping these devices safe.
Listen to this 45-minute session to understand how network traffic analytics provide visibility across healthcare networks and can detect advanced threats that might otherwise get under the radar of typical network defenses.
You will learn:
IoT medical devices cybersecurity vulnerabilities
Most common advanced attacks of IoMT
Effective security architectures for protecting connected medical devices
Bitdefender solutions that can help reduce cyber risk on IoMT
---
Speaker: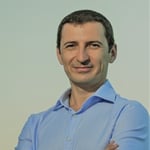 Bogdan Carlescu

Cybersecurity Professional
Bitdefender