Download Whitepaper:
Mobile Security Challenges & Concerns
in a BYOD Enterprise
---
BYOD has introduced additional components to a typical company IT infrastructure—each of which represents a potential point of entrance for invasions and attacks—compounding the challenge of data security.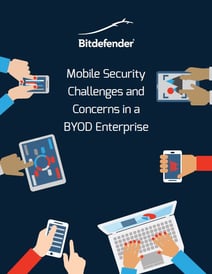 In a time when hackers are growing more sophisticated, and the scope of potential tech-related threats a company may face grows at a rapid pace, it is challenging enough to maintain security over in-house devices and networks. Adding external, employee-owned components to the mix makes things much more complicated for IT professionals, increasing security concerns exponentially.
This whitepaper provides actionable insights into:
The current state of BYOD trends and risks
Top security threats/breaches experienced in 2015 and what's in store for 2016
How BYOD-driven companies can stay safe.
Fill out the form to download it now—learn to secure your company's BYOD endeavors!
Share this on: