FREE Tech Dossier |

The New IT Acronym
KISSME: Keep IT Security Simple, Manageable, and Effective
---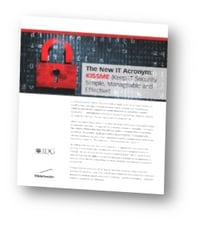 IT has evolved immensely over the past decade, always adapting to become faster, more agile, and more efficient. Unfortunately, security threats have evolved as well, and are more stealthy, more intelligent, and more malicious than ever before.
In order to put up their best defense against the ever-evolving threat landscape, IT organizations must take a horizontal approach to their security. Implementing point solutions will only increase complexity and open the organization up to attack.
Download this Tech Dossier and learn...
√
What are the top concerns of CSO's in this new IT landscape
√
The major gaps in most IT organizations' security approach
√
How you can adopt a few simple changes to improve visibility, simplify management, and increase ROI
Fill in the form to get your FREE Tech Dossier today and get ahead of the competition!
Share This on: