Have you ever wondered what the mobile threat landscape looks like through the eyes of a research lab from a cybersecurity company with hundreds of millions of sensors?
This talk will provide a glimpse into what we see on a day-to-day basis. From your usual spear-phishing, password stealers and even ransomware on mobile to complex APTs, detection evasion, and APT C2 servers.
---
Speaker: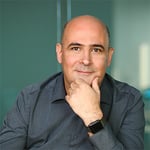 Alex Jay Balan
Security Research Director
Bitdefender
---
Alex "Jay" Balan is the Security Research Director and Spokesperson for Bitdefender. His career is focused on Information Security, Innovation and Product Strategy, fields in which he has so far accumulated over 20 years of experience. He is now furthering security and privacy research and has been actively involved in creating awareness by speaking at a number of conferences including DEFCON, Derbycon, RSA, BSides, ISC China, Interpol's meetings on Cyber Crime for Heads of Units, DefCamp, IMWorld, Future of Media and many others.